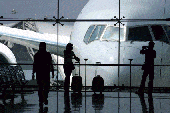 DARWIN International Airport is the gateway to Australia's Northern Territory, a state that is the culturally diverse heart and soul of the country's Red Centre and Top End.
Humid and tropical, Darwin is set on a rocky peninsula on the Australian north coast and is renowned for being a survivor, having endured fearsome elements thrown at her by both nature and man - cyclones (1890s and 1974), an onslaught of bombing in World War II and the annual raging torrents and floods brought on by the wet season (November to April).
As the largest city on a coastline stretching 5,600km right across from Cairns and down to Perth and geographically closer to Indonesia and Singapore than Melbourne or Sydney, Darwin is ideally placed as Australia's gateway into South East Asia and has regularly flights to all major destinations in the region.
The airport is located just 13 kilometres from Darwin's town centre just off the Stuart Highway that runs 2,800km (1700 miles) south to Alice Springs and Adelaide in South Australia. In an unique Australian partnership the civilian airport shares the Airport's infrastructure with the Royal Australian Air Force and visitors can often be treated to the spectacle of RAAF jets sharing the same runways as their passenger aircraft.
Darwin airport is the perfect launching pad from which to begin adventure in northern Australia. The airport is small, but practical, fully serviced and pleasant facilities make it enjoyable to use.
Airlines & Terminals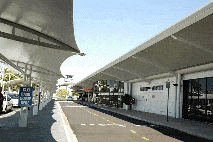 Darwin International Airport operates from the convenience of a single terminal with the right wing of the building dedicated to international traffic and the left wing to domestic. The main terminal is a bright and breezy building opened in 1991 and undergone continual improvements ever since.
Domestic services are dominated by Qantas, Virgin Blue and Jetstar with newcomer Tiger Airways set to make inroads into the Australian market as well as offering flights into South East Asia. International services include the aforementioned carriers and also Indonesia's Garuda and Merpati Nusantara airlines, Royal Brunei and Air North.
Facilities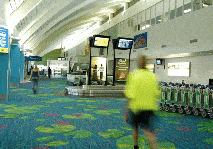 For a smaller sized airport, the terminal is excellent value and is packed full of services.
ATMs and foreign exchange through Travelex are available on the ground floor, first floor and in the international departures lounge. There's plenty of options when it comes to food and drink with Aromas Cafe located in both the Domestic and International Departure lounges and the Fannie Bay Ale House in the Domestic Departures Lounge.
Duty Free shopping has recently been revamped and there are excellent bathroom, shower, baby change and disabled facilities. As with all Australian Airports, Darwin operates a smoke-free zone however there are smoking areas and smoking is also permitted in the Public Viewing Deck on the first floor.
Internet kiosks and wireless services are available within the terminal and both Aromas Cafes and Fannie Bay Ale House offer internet services as well.
An excellent feature worth knowing about is Darwin airport's Dial-a-Name service, on the ground floor of the terminal near Gate 7, that connects you to a tourism service of your choice.
In what is a bit of an airport rarity, baggage trolleys are free of charge at Darwin and trolley stands are found in the baggage collection hall, drop off & pick up zones and in the public car park.
Directions & Transport

Darwin central business district is a 13km or a 10-minute drive south west of Darwin Airport.
If public transport is required, a taxi zone is located at the front of the terminal. It will cost you about $25 to $30 to get to the city centre.
According to the official website of Darwin airport, Darwin Airport Shuttle operates daily between Darwin Airport and city accommodation, and other locations upon request. Fares are $10 one way and $18 return. Additionally there is a private hire rank is located at the front of the terminal for all limousine transport. Note that limousines does need to be booked prior to transfer.
Shopping/Duty Free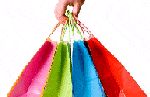 JR Duty Free kicked off its operations at the airport at the beginning of February 2007 and is proving a hit with visitors. Choose from a range of duty free products including technical accessories and video equipment, opals, watches, cameras, liquor, men's and women,s fragrances, fashion stores, cosmetics and souvenirs.
JR Duty Free is found in the International departure/transit lounge and arrivals, both on the first floor. Duty free purchases can be ordered prior to leaving Australia and collected from the Arrivals Store on your return.
A combined gift store and newsagent in the Domestic Departures & Arrivals Lounge offers newspapers, books, Outback fashion, Aboriginal goods, souvenirs, luggage and other merchandise.
A recent addition, Viva La Body, brings a little personal pampering to Darwin Airport with a stylish and extensive range of natural products that include skin and foot care, soaps, essential oils and much more. Viva is located on the first floor between the International and Domestic Lounges.
Accommodation
Opened in 2005, Darwin Airport Resort is just 350 metres from the Terminal and open 24 hours a day catering for all travellers. Accommodation ranges from business suites, deluxe and executive bungalows and even a majestic honeymoon suite. The resort feel lends itself to a relaxing environment and offers a variety of dining options and activities.