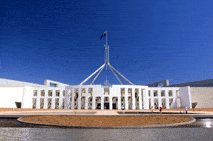 AUSTRALIA's capital city is the nation's official home of politics, but don't let that mislead you into thinking it's a place full of boring, bumbling bureaucrats. There's actually a lot to explore.
A few cold hard facts may not paint the prettiest of pictures - the city is renowned for its bitterly cold winters, there's not a beach in sight and entertainment arguably doesn't stack up against some of its bigger city cousins around the country - but go beyond the surface of this city with its own purpose created territory - the Australian Captial Territory - and there's much to like and loads of reasons to visit. Wonderful museums and galleries sit majestically on the outskirts of Lake Burley Griffin and is surrounded by beautiful national parkland and valleys. There's a definite air of peacefulness, despite the political ear-bashing that has previously gone on at Parliament House.
Canberra, with a population over 330,000, has a big country town feel. It's now a thriving city that is geographically 150km (95 miles) inland from the east coast and 280km (175 miles) from Sydney and 660km (415 miles) from Melbourne.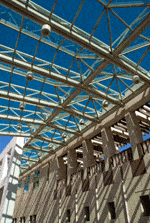 Most distinctive is its architectural heritage in its government buildings and museums. There are stacks of artistic and cultural institutions ranging from the Australian War Memorial to Parliament House, which towers over 23 hectares of gardens. A gigantic water feature in the centre of the lake known as the Captain Cook Memorial Jet spurts a 147metre stream of water into the air, while the nearby National Gallery of Australia is home to Australia's most famous public art collection spanning 5000 years of international art.
The best time to visit Canberra is in spring and autumn when a burst of garden tapestries is unleashed, including tulips, native flowers and countless blooms. During September - October each year Floriade - "Australia's celebration of Spring" takes place - the spring festival of all spring festivals when the parks and gardens surrounding Lake Burley Griffin come alive with colour and chirping birds.
Cuisine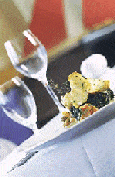 ALFRESCO is the order of the day in Canberra, a city that claims to have more restaurants per capita than any other Australian capital - obviously dining is a favourite pastime. But what makes it really special is the eclectic offerings and the quality is nothing short of superb.
Vienna Restaurant: There are always first timers and regulars storming through the big doors of this restaurant which specialises in providing visitors with a wonderful European dining experience. The menu changes seasonally and is mainly Austrian/German, with a few Hungarian meals included. This is definitely the place to go for a hearty meal.
Sammy's Kitchen: FAST, fabulous and one of Canberra's renowned Asian eateries holds pride of place for the locals. It's all about authentic Malaysian and Chinese fare here and it's located in Bunda St in the city.
Vasco's Portuguese Charcoal Grill: Relaxed, intimate and the aromas of spicy seafood sizzling away on the grill as well as oven-fresh bread makes an experience at Vasco's an unforgettable one. Vasco's dishes up traditional and modern Portuguese cuisine and an extensive menu boasts seafood, meats and vegetarian dishes. A kids menu is great value too.
The Chairman and Yip: There's arguably no better restaurant in Canberra than this one for quality food and service. Irresistible Chinese cuisine is its drawcard, complemented by beautiful decor and exceptional service by the staff. It has an extensive a la carte menu, a range of banquets and tasting menu, as well as a diverse wine list.
Silo Bakery: No other eatery in Canberra does breakfasts quite as good as Silo Bakery, an institution for fresh bread and other baked treats. So good, in fact, it was the 2006 Restaurant & Catering national breakfast restaurant. And don't forget Silo serves up delicious lunch options as well. One of Silo's specialities is chilli jam on fried eggs and tomatoes.
Shopping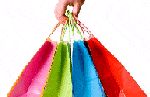 IF you thought Canberra was simply made up of a government building or two, galleries and no place to shop, then think again. There's the busy city centre stores, suburban centres and if you're in for a good shop funky little streets that offer up many goodies. Keep in mind general shopping hours are from the standard hours of 9am to 5.30pm except Fridays (9pm), while most shops are open on weekends until mid-to-late afternoon.
Here's a few to consider:
City centre
THERE'S no shortage of shopping here and don't forget to check out the arcades of City Walk in Civic, a beautiful paved pedestrian area, and Garema Place. Find outdoor dining hotspots, fashion houses, shoe shops, craft and antique stores and street performers providing a range of busker style entertainment.
Manuka-Kingston
THESE two small shopping centres are separated by a short five-minute walk and have been popular since the 1920s. Check out all sorts of shops ranging from designer labels to beautiful antique stores, there's restaurants, supermarkets and cool cafes. You'll sense the history here, which only lends charm to your shopping adventure.
The Canberra Centre
FOOD retailers, fashion houses galore and lifestyle shops make up the popular Canberra Centre. Also stroll through a discount department store, supermarket and other speciality outlets. It's in the heart of town, is open seven days a week and is a place where you could easily spend the best part of a day.
Brand Depot
OPENED in 2006, Canberra's first factory outlet shopping centre has loads of well known brands for fashion, accessories and home wares at some significantly reduced prices - even up to 80 per cent off retail recommendations. Check out favourites including Snowgum, Roger David, Shoobiz, Westco and Sunglass Hut. Best of all, you can walk straight into Brand Depot once you get off your flight because it's located in Majura Road adjacent to Canberra International Airport.
Lonsdale Street in Braddon
THIS is the place to check out original Canberra designers, Australian fashions, a variety of hand crafted gifts and home wares as well as restaurants, hairdressing salons and many other types of shopping options. It's only five minutes away from the city centre.
Markets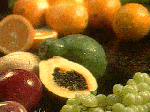 Gorman House Markets
IF you're strolling about on a Saturday looking for a market, make sure heritage listed Gorman House is first on your list. Sift through vintage treasures, second-hand books, stunning handmade jewellery and clothes. Part of this market's charm is the venue which boasts wisteria lined undercover walkways and bright and sunny courtyards. It opens at 10am and finishes at 4pm. Gormon House is in Ainslie Ave, Braddon.
Old Bus Depot Markets
THIS one by name doesn't sound too appealing, but this setting in an old industrial building comes alive on Sundays with a diverse range of hand-crafted and home-produced goodies. Find everything from jewellery, perfumes and ceramics to timber furniture, plans, toys and food stalls. Find it at 21 Wentworth Avenue, Kingston.
Hall Markets
RENOWNED as one of Australia's biggest markets, there's more than 500 stalls featuring crafts, woodwork, leather-work, pottery, knits, jewellery, children's toys, condiments, cakes, fruit and veggies, plants, baby animals, worm farms, food and refreshments among many more weird and wonderful bargains galore. Best of all are the rules here - all items must be hand produced, grown or crafted by the stallholders. It's held on the first Sunday of the month (except January) at Hall Showground, Hall.
Belconnen Rotary Trash N Treasure
THIS smaller market in Jamieson is legendary in Canberra and has been a Sunday special (except Christmas Day!) since the 1970s. As the name suggests, there's a bit of everything. Many stall holders operate from a car boot.
WE mentioned earlier that there might be a few preferred options throughout Australia when it comes to entertainment - well the Canberra locals could rightly disagree and perhaps we're being a tad harsh. After all, there's a range of fine restaurants, clubs, cinemas, dance-floors, theatrical productions and friendly pubs. Then there's lots of sports events to attend on weekends including cricket, football and basketball, as well as the thrills and spills of Predator Paintball for those who are a little adventurous at heart.
The Lighthouse in Belconnen sits on the edge of Lake Ginnindera and is a hotspot for its beer garden and lively atmosphere in summer with DJs and live bands performing on Wednesdays and Fridays.
Then there's All Bar Nun for scrumptious tapas as well as Bulmer's Norman apple cider on tap and a superb wine list.
A nightclub for the young at heart, but aimed at the professional set, is the American-style Bobby McGee's Entertainment Lounge in the Rydges Canberra Hotel.
ICBM/Insomnia is a Saturday night "must do" for trendy party-goers. It's a place to "dance upstairs, drink downstairs" as the locals put it. The venue is considered glam and glassy with moody lighting, chic furniture and happy patrons who generally are there to dance til they drop. Insomnia has marketed each night of the week to a different crowd. Monday (Hospitality), Wednesday (Comedy Club) and Sumptuous Sundays (live DJs).
Of the pubs in the city check out the British flavourings of Wig & Pen Tavern and Brewery on the corner of Limestone and Alinga streets, and the popular Mooseheads Pub on London Circuit, in the southern part of the city.
Accommodation
FROM budget caravan parks to the charms of a more luxurious hotel, there's a range of great places to stay.
Crowne Plaza in Binara St is the largest hotel around with city views and is in the heart of town. It's only minutes on foot away from the CBD, many fine restaurants and bars, and major tourist attractions.
Victor Lodge B;amp.B in Kingston is a DriveNow recommendation for its wonderful central location and traditional guesthouse charms (including an all you can eat breakfast!).
Get a room for $100 a night at the Comfort Inn Airport, just 15 minutes from the city centre and seven minutes from the airport. For those travelling on a budget the Canberra City YHA is a five minute walk from the bus terminal and in the centre of town. Facilities include an onsite cafe, pool/spa/sauna, internet, fully-equipped kitchen, rooftop BBQ, TV/games area, underground bar and parking.
Federal Parliament
Federal Parliament House
Australia's Federal seat of Government built and completed in 1988 to help celebrate the country's bi-centennial. One of the world's acclaimed buildings it is one of the largest buildings in the southern hemisphere and welcomes over 1 million visitors annually.
Old Parliament House

Old Parliament House
is the ultimate Australian museum of social and political history in a heritage-listed building, which also houses the National Portrait Gallery. Exhibitions are amazing and decades of passionate politics echo in the corridors. Experience an atmosphere steeped in history, go on a tour and relive dramatic events in Australia's history.
Australian War Memorial

Australian War Memorial
- honours the sacrifice of Australian men and women who served in war. Through exhibitions the Memorial presents stories of Australians at war, in armed conflict and during peacekeeping activities. Investigate ceremonial areas, extensive exhibitions and research facilities. The Memorial is one of the most important features of Australia's capital city. Explore galleries of relics, artworks, photos and personal items that help define Australia and our armed forces.
Australian Institute of Sport
Australian institute of Sport
- take an inside look at why Australia is such a successful sporting nation. Experience a world of elite Australian athletes at the AIS, a world class sporting facility where athletes train. Join a tour of the complex with an athlete as your guide. Test your skills at Sportex - an exhibition of interactive sports displays, videos and tributes and learn about the latest sports technology. Also go for a swim in the AIS pool, enjoy a spa or game of tennis and enjoy a tour.
Cockington Green Garden
Cockington Green Garden
is a miniature world of meticulously crafted buildings set within gorgeous landscaped gardens. This landmark attraction has scored loads of tourism awards. Always a great tourism attraction, this zoo is home to 3500 animals, almost 300 species of exotic and native mammals, birds, reptiles and fish exhibited in magnificent botanic surroundings now spread out over 8 hectares and just a few minutes walk from Adelaide's city centre.
National Museum of Australia
National Museum of Australia
can't be passed up during your stay. It's a great place to discover the land and people of Australia as you view social history in a unique fashion. The building itself is a visual feast and with 6600 square metres of permanent and temporary exhibition space in what is a mass of colour and fascinating displays.
The Essentials - Canberra
Population: 330,000
Temperature: January 29C - July 11C
Country Code: 61
Timezone: GMT + 10 (GMT + 11 from the first Sunday in October to the first Sunday of April)
Information: visitcanberra.com.au