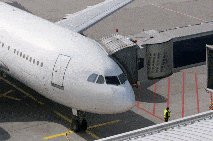 KNOWN as the "foggy airport" due to its location in an inland valley in a cool climate, Canberra International Airport is a smaller style city airport servicing Australia's federal capital city.
While it tends to get a bad wrap for delays due to fog, the airport's official website claims that in actual fact, history has shown that aircraft parked overnight at Canberra Airport are able to depart to destinations on time in most cases. The most difficult time of the year is winter when Canberra is prone to morning fogs (May to July), which sometimes don't clear until noon on occasions and can cause a bit of bother with schedules.
The airport is open daily from 5am until after the last flight. Canberra is well serviced by airlines Virgin Australia and Qantas with direct flights to Brisbane, Sydney, Perth, Adelaide and Melbourne. It also handles diverted traffic from Melbourne and Sydney.
Canberra is located in the Australian Capital Territory, which is surrounded by New South Wales. The city is 150 kilometres inland and 571 metres above the Pacific Ocean, 281km from Sydney and 660 kilometres from Melbourne.
While it's known as Canberra International Airport, it doesn't yet actually have international flights - unless you're the President of the USA or other visiting Dignitary!
Canberra airport is bright, well designed and has a contemporary feel, with the promise of so much more with renovations in progress.
Airlines & Terminals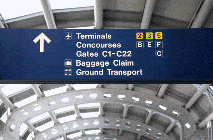 Canberra International Airport has two airlines in operation, Qantas and Virgin Australia.
The official website, www.canberraairport.com.au has regularly updated departures and arrivals information.
On one side of the runway is the terminal and on the other is the former air force base. This is home to the Australian government's VIP transport squadron and is used by heads of state visiting the country and military transport.
Facilities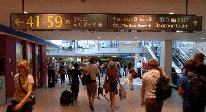 Central to the terminal you'll find the departure lounge which was refurbished during 2009-13.
The Airport has excellent food and beverage services. Meals and a coffee are available between 5.30am and 7.30pm at the Ground Cafe, or you can sip a cocktail in the Barton Bar, which is open seven days a week, and from where you can watch the planes arrive and depart.
Foreign currency exchange bureau Travelex is on the ground floor of the terminal and is open weekdays from 6.00am to 6.30pm and from 7am to 5.30pm on weekends. In addition to foreign currency, the bureau also offers phone cards, international money transfers, international drafts, Travelex global payments and Visa TravelMoney.
Directions & Transport

The airport is between 5 and 10 minutes away from the city centre, Parliament House and other well known tourist attractions and is on the intersection of Canberra's main East-West artery, Parkes Way/Pialligo Avenue, and Eastern Ring Road (Monaro Highway/Majura Road) near Pialligo.
To reach the city from the airport you have three choices. An Airporter bus which is a 15-minute trip that leaves hourly and stops off at city hotels; a taxi service or a rental car. There is no train network in Canberra. Local buses operate, however not to the airport, though you can connect with the bus network via the Airporter stop in the city.
Shopping
A vast range of reading materials can be found at the Newslink newsagency and gift shop. There is also a range of gift and personal items for sale, as well as confectionary and children's activities. Newslink can be found on the ground floor of the terminal building and is open seven days a week, from 5.30am to 9pm.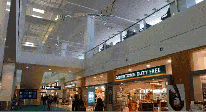 Brand Depot has been recently built at the airport and is a major coup for Canberra as its first major retail outlet centre. There's over 1700 free car spaces right at the front door and caters for parents with prams, seniors and disabled drivers with specifically allocated positions located close to the front door. There are more than 60 stores and food outlets, including Calvin Klein Jeans, Donut King, Snogum, Kids Central, Westco and many more.
Accommodation
HERE's some great accommodation options within 20 minutes of the airport.
Hyatt Hotel Canberra
Canberra's only five star hotel is only a five minute trip from the city centre, Parliament House and other tourist attractions. There's almost 250 rooms, including six Diplomatic Suites and 11 Park Suites. There are 53 Club rooms, where guests enjoy access to the exclusive Ambassador Lounge. There's complimentary external parking, a daily newspaper and pool, spa and sauna to rest and recover weary bones. A cafe is open for breakfast, lunch and dinner.
Canberra Lyneham Motor Inn
Here's a great option for the budget conscious traveller, a three star gem with 60 room motel located within walking distance of the North Canberra cafe and restaurant strip. Canberra's main attractions are within 10 kilometres (7 miles) and you can jump on a local bus 100 metres from the front door.